I thrifted this Betsey Johnson dress two days ago and immediately came home and wore it. It has a typical Betsey vibe with a flounce skirt, small delicate sleeves and very see through fabric. I was lucky enough to have an old black, silk GAP slip dress still hanging in my closet and it was perfect underneath. Adds a bit to the length, the fabric stills flows but,
it keeps me
covered and looking like a lady.
And also with heels but, a chunkier taupe sandal. (Seen here)
Today, I put it on and it was cooler and I wanted a casual, not vamped up look so I tried out my trusty jean jacket and a pair of black western boots.
I love the floral toile fabric, it has such a vintage botanical look to it, a good excuse to take the pictures near my gardens.
I left my hair in an unwashed slightly messy state. I paired it with big round sunglasses, simple gold hoops and a vintage pendant from my Grandmother.
I think I like it best styled this way. It still shows the fun, flirty side of the dress but, doesn't look like I'm trying to be 20 years younger than I am.
But, if there was ever a designer's sweetheart dress that I could justify wearing at this age, it would be Betsey Johnson. She doesn't let age get in the way!
Dress: Betsey Johnson.-thrifted
Jean Jacket: Old Navy-thrifted
Slip dress: GAP-circa 1994
Boots: Matisse-circa 2002
Linked up today at Rolled up Pretty for whatever whenever Wednesday.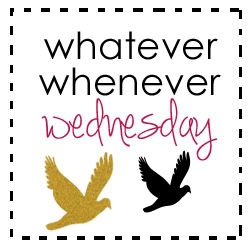 And at transatlanticblonde for what I wore Wednesday
And today at Harper's Happeings for HOTT, High on Thrifting Thursday's.